We are delighted to unveil P3's new brand identity. It embodies the personality of our company and reflects the quality of our products and services. The launch of the new P3 Hotel Software brand and website marks the beginning of a new chapter in the P3 story – one we hope you can be a part of.
Why change the brand?
The creation of a new brand was identified as a key tactic in the P3 2020 strategic. The hotel industry is constantly changing and innovating, and as P3's 20th anniversary approached, we decided that it was time for a change of look which reflected the repositioning of the brand as one dedicated solely to providing the best booking technology solutions to the hotel sector. P3 is constantly evolving, always growing and improving the offering we provide to our clients. It seemed only natural that a more fresh and mature visual style should follow. We redesign our brand completely, from new fonts, a new logo to a new website.

The idea of ​​designing a new brand arose from the need to have a strong visual identity that was in line with the quality of our offer, as well as our goals, beliefs and personality. The first stage of the rebranding process involved intensive research and brainstorming with the entire P3 team. We really appreciate the feedback and input we received from everyone!
P3's New Look
The new look is an important part of our strategy because it accurately reflects our presence in the market and improves our ability to reach and engage much more effectively with our partners, customers and prospects. Every detail of our new branding – from our new fonts, to our colours, graphics, and logo – provides us with a more consistent brand identity that speaks in a powerful way across markets.

We also felt the need to change our name to communicate more clearly what our core business is. From now on, we're officially P3 Hotel Software or, if you'd rather, just P3.

P3's new visuals illustrate who we are as a company and as individuals: professional, reliable, creative, friendly and constantly growing. Our new logo, fonts, elements and shapes reflect the flexibility, experience, quality, customisation, support and integration of our software solutions.
P3's New Logo

Our new logo evokes a sense of simplicity, flexibility and movement. It combines rounded friendly edges with sharp professional corners. The contemporary font aligned with the gradient icon signifies modernisation and friendliness. The logo's colours were chosen to symbolise our professionalism (navy), trustworthiness (blue), creativity (purple) and growth (green). These are the main colours that will be used across our communication materials.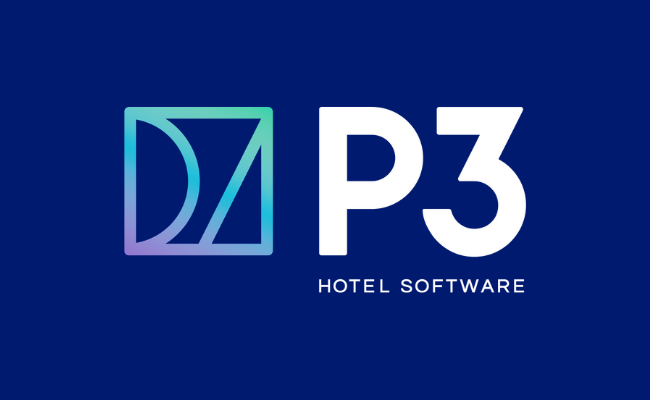 The gradient icon is the main characteristic of our new logo. It's a blend of three simple shapes – the square, the circle and the triangle – and each represents an area of our clients' business that we support with our products and services. The square represents IT & Operations and relates to our secure, efficient and integrated solutions. The circle represents the Marketing sphere, with our focus on brand and design customisation for more consistent marketing. The triangle represents Revenue and our efforts in helping hotels to increase this through direct bookings and improved loyalty.

These shapes also correspond to our tagline – Simplify. Connect. Convert. They conceptually represent the customisable levels of control we give our clients to empower them to connect, fine tune their branding and turn up revenue.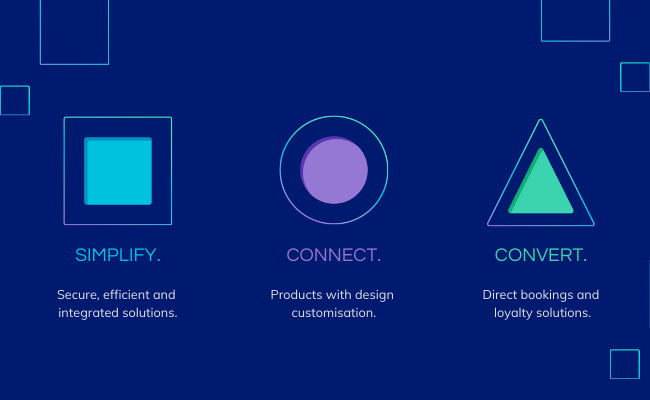 The Online Guest Journey
P3's new website brings all our visuals into reality and showcases our products from the perspective of creating a solid online guest journey. The repositioning of our products through the lens of the guest journey illustrates that our integrated solutions cover a number of points of contact, each representing an opportunity for hoteliers to create a relationship with their guests.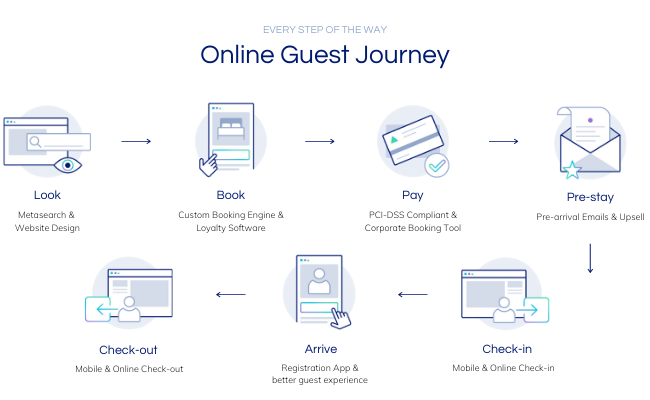 From now on, you'll see our new look across all of our internal and external documentation, marketing materials and online presence. We hope you like it and we believe that the launch of the new P3 brand marks the beginning of a new chapter of success in the improvement and impact of our business on yours.

__