A number of P3 clients witnessed record highs of direct bookings overtaking booking volumes coming from 3rd party OTA's. One of the reasons for this trend is the phenomenon of 'Staycations', which will be here to stay for 2020 and into 2021.

Staycations are well and truly the most talked about phenomenon in the hospitality industry this year. The question is how have Staycations impacted on the numerous Online distribution channels – specifically brand websites.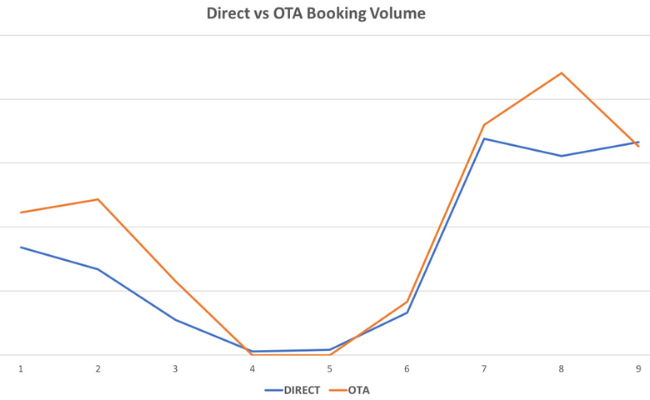 The graph above compares direct against OTA's booking volumes from January (1) to September (9) 2020. Traditionally, OTA's bookings would probably outperform a brand website, a trend seen in the first two months of this year.


After the Covid-19 hit and the low-point of bookings in April, we can see a recovery of brand bookings faster than OTAs.


As demand peaked in August, OTAs started to perform well again. However, it seems that now as there's a slowdown in bookings, the trending is starting to reverse again.


Direct Bookings Taking the Lead in Online Distribution

Travel restrictions are by no means ideal for the industry, nevertheless it has opened doors for brand awareness & brand websites.


Staycations have facilitated for brand websites to take the lead in Online distribution. OTA's might seem like an easy option to drive revenue in the short-term, but long-term this strategy will damage your brand.


Rebuilding brand awareness is something that takes time and effort, disregarding your hotel's brand booking engine now will come back to haunt you!


No matter where in the world your hotel is – one thing that is a guarantee at this point in time is very little or no international travel. The domestic market is the driving force behind your bookings, so why shouldn't your brand website be outperforming the likes of booking.com? Be smart when using OTA's, but do not over rely on them!
Add Value To Your Direct Booking Channel
Covid-19 has turned the world upside down, however with every challenge, comes opportunity! Now is the time to re-evaluate and focus on your brand's booking engine, driving volume and considering what value can be added for the end user by booking direct.


It's time to take advantage of this shift in market trends and review all the offers on your booking engine. Be creative with what you are offering on your brand website – link up with local businesses that you can create a package that will appeal to the local market and push these offers on social media & PPC when possible.


It is all well and good creating offers on your website, remember that you have to communicate these new offers to the public using PPC or newsletters.


Social media is also a powerful tool and now more than ever is the time to make use of this platform to engage with followers and expand this database. Start posting, sharing competitions and continuously engaging with your followers.


Be sure to review and audit your website's offers and content regularly. It is not enough to review on a seasonal basis anymore. As restrictions are frequently changing, it is important to consider how and if restrictions will impact on your offers & content.

__